Fuel Characterization Laboratory
Texas A&M University at Qatar's Fuel Characterization Laboratory (FCL) is built to support both research and teaching activities in the area of formulation and characterization of fuels and value-added chemicals. It is a world class research laboratory that support the development of the fuel technology capabilities of Qatar for Gas-to-Liquid (GTL) processes. It supports the research and testing needs of multiple, industry-oriented and scientific disciplines such as materials, electronics, machining, manufacturing, chemistry, fuel characterization, research computing, water and environmental research, wettability research, engine testing and research, sustainability energy and clean air research, and petrophysics.
The FCL is currently used for the development of future generations of synthetic fuels obtained from natural gas using GTL technology, and the comparison of these fuels with conventional fuels obtained from petroleum resources. The FCL is equipped with advanced analytical equipment to measure both physical and chemical properties of fuels and value-added chemicals. The lab is equipped with over 30 types of analytical equipment including advanced Gas Chromatographs (GCs) that are capable of identifying the chemical composition of all species existing in fuels. Furthermore, the FCL is equipped with the necessary facilities to formulate new fuel blends via the use of additives.
The work conducted in this lab adheres to a sophisticated data quality control system and safety regulations developed with the support of our industry partners. This system ensures that the equipment, testing procedures and data recording in the FCL comply with international standards set by the American Society for Testing and Materials (ASTM). The FCL is ISO 9001:2015 Certified. In addition, the FCL hosts a number of projects representing a unique collaboration between world leading companies in fuels and engine manufacturing, and academic institutions around the globe. Collaborators are Shell, GE (Oil& Gas), OryxGTL, Qatar Airways and others. Over 25 graduate and undergraduate researchers were trained in the facility since 2009.
Design Approach of GTL Synthetic Fuels
The overall scope of our work is to identify the chemical components for making synthetic fuel blends that satisfy specific product needs (e.g. gasoline, diesel, jet fuel) and provide ultra clean fuels. We aim to develop experimental protocols for characterization of the physical and chemical properties of these blends.  We model the relationships between fuel properties and blend composition to predict the properties of a given blend. The different compositions of oil-derived and synthetic jet fuels leads to a difference in physical and chemical properties, which may be crucial in determining performance. ASTM standards are used to specify property limits (ranges). The methodology followed is to prepare the blends and experimentally measure the blend properties and develop property-composition correlations until optimum blend compositions are identified.
Fuel Characterization Lab Quality Management System
FCL Objective is to produce technically supportable laboratory test results that accurately and precisely describe the sample for the purpose of reporting to the internal and external customers. FCL has developed a quality management system that comply with ISO 9001:2015 certification requirements to insure quality of service and results for industry and academia partners. The laboratory is certified in June, 2015.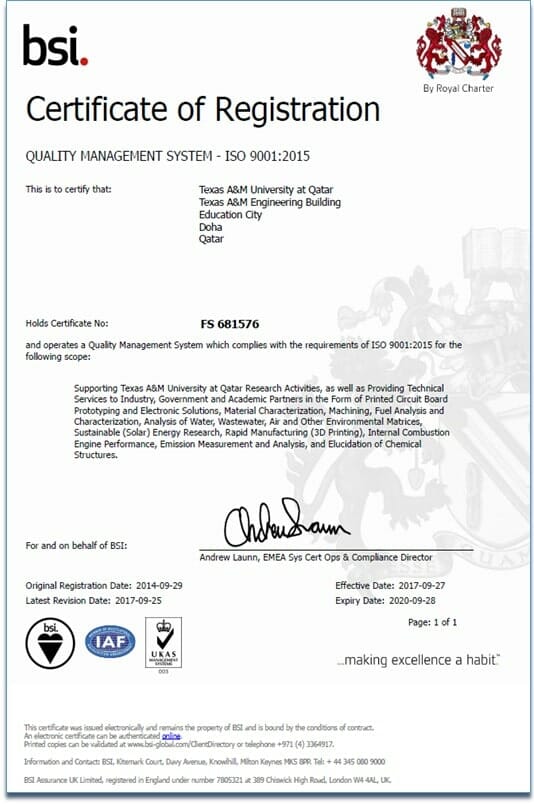 Fuel characterization laboratory capabilities
Gas Chromatography (GC-FID)
Composition and concentration of fuel

Perkin Elmer / Clarus 500
Composition and concentration of fuel

Gas Chromatography – Mass Spectrometry (GC-MS)
Composition and concentration of fuel

2-D Gas Chromatography (GCxGC)
Agilent/ 7890A + EPC Modulator
Comprehensive two dimension Gas Chromatography

Gas Chromatography (online GC-FID)
Composition and concentration of online product from Fisher Tropsch Reactor

Petrotest Instruments GmbH /ADU 4+
To determine the boiling range of fuel sample
Anton Parr ProveTech GmbH/ OBA 2 & PA5
To detect the corrosiveness to copper (or silver) of aviation gasoline or other hydrocarbons


Dynamic & kinematic Viscosity
To measure the dynamic and kinematic viscosity of fuel Sample

Mitsubishi Chemical Analytech Co. LTD/ TS-100V
For sulfur content of fuel

Emcee Electronics /
Model 1153
To measure the Electrical conductivity

Fluorescent Indicator Adsorption
Anton Parr ProveTech GmbH/
13-0930
To determine of hydrocarbon types
Petrotest Instruments GmbH/ TAG 4
Measuring the flash point of fuel

for measurement of flash point of hydrocarbon liquid samplesTo determine of hydrocarbon types

Cold flow properties analyzer
Phase Technology /
PSA-70Xi
Phase properties of fuel (freezing, pour and cloud point)
ASTM D 5949 / 5773 / 5972

Petrotest Instruments GmbH/ K2276
To measure the freezing point of fuel
Parr Instrument Co/
6200EF

Lubricity Automated BOCLE System (ABS)
To assess the lubricity of jet and diesel fuels

MITSUBISHI CA-200 MOISTURE ANALYZER
To measure the moisture content of fuel sample

Petrotest Instruments GmbH /
17-0695
For the determination of acidic constituents in petroleum products

To measure Octane number of fuel sample

Petrotest Instruments GmbH/ OBA 2 & PA5
For the determination of the stability of Fuels under accelerated oxidation conditions.

Petrotest Instruments GmbH/
 S-160180


Grabner Instruments /
MINIVAP VPXpert
For determination of the vapor pressure of fuels

Determination of additive elements

FCL Equipment details can be obtained from here